The Best Foundation for Your Hot Tub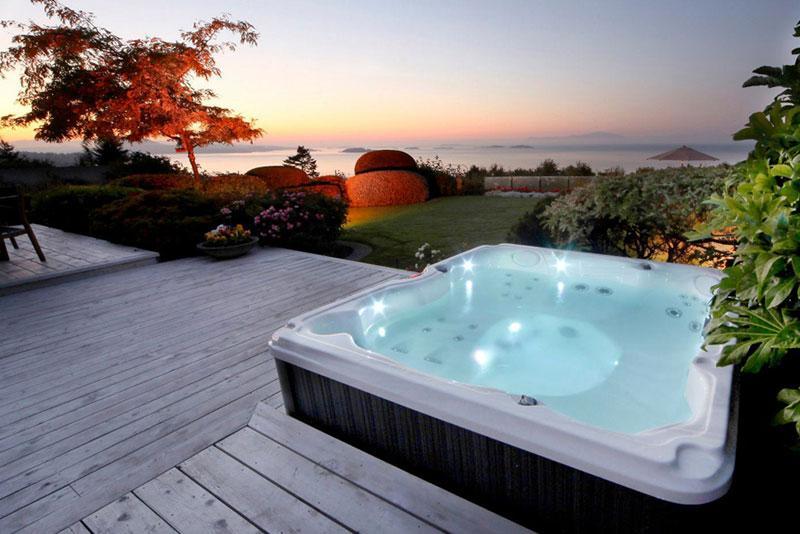 Adding a hot tub to your backyard provides an extra layer of excellence to your outdoor space. If you are in the process of purchasing or installing a hot tub, it is important to consider where it will reside. The first step to a thorough and seamless installation requires one crucial component – the proper foundation.
A hot tub foundation is not only essential for protecting the longevity of your spa, but it is also a great way to decorate your yard further. There are many different types of hot tub foundations including a patio, deck, concrete, paver stones, and crushed gravel. Choosing which foundation is best for you ultimately comes down to personal preference and needs.
With the right foundation, you ensure the safety and quality of your hot tub installation. In this article, we will cover the benefits and installation processes of each of the above-mentioned hot tub foundations. Keep reading to learn more about the industry-leading hot tubs for sale at Vintage Hot Tubs!
The Importance of a Trustworthy Hot Tub Foundation
Adding a hot tub to your outdoor space is an exciting time. However, there is a key action you must take before the hot tub can be placed – creating a foundation. Securing the proper foundation for your hot tub will help you achieve the utmost comfort in your backyard.
A hot tub foundation is crucial for many reasons, including:
Weight Support: A hot tub that is full of water can weigh anywhere from 3,000 to upwards of 6,000 pounds! That much weight requires sturdy support that will hold up when the weight of people is added to the mix.
Environmental Protection: Simply placing a hot tub on the ground or dirt will expose it to the moisture of the earth and other environmental risks. A foundation adds a layer of protection to help prevent damage and ensure the vitality of your spa.
User Safety: Hot tub foundations provide not only protection for the spa, but users as well. A foundation will help to prevent unwanted slips on unstable or slippery ground.
Hot Tub Foundation Options
When it comes to choosing the right foundation for your hot tub, there are five main options: a patio, deck, concrete, paver stones, or crushed gravel. Each comes with its own benefits and installation methods.
Here is a breakdown of each of these foundation options:
1. Patio
If you have an existing patio this can be an amazing option for a hot tub foundation. However, there are some considerations to keep in mind such as whether or not the patio is level.
To install a hot tub on a patio, you will need to assess the quality of the materials the patio is constructed from. If it has any damage, instability, or general wear and tear, it will need repairs before placing the hot tub atop it.
Benefits of a patio foundation include providing a picturesque setting that already matches the aesthetic of your backyard and requiring minimal extra construction.
2. Deck
A deck is another great option for a hot tub foundation that ties in the existing aesthetic of your backyard with your new outdoor spa addition. Like with patios, existing decks need to be assessed for levelness and have any damages repaired.
If you are constructing a brand new deck to host your hot tub, you need to pay close attention to how much weight it can bear. On top of supporting the several-ton hot tub, the deck should also be able to support the added weight of people and other deck décor.
One major benefit of choosing a deck for your hot tub is that you can make the space multi-purpose. Your hot tub relaxation zone can be combined with your grill station and other outdoor activities!
3. Concrete Base
Concrete makes a fantastic foundation for any top thanks to its long-lasting durability and sturdiness. For many hot tub owners, concrete bases are the preferred option as they are both economical and functional.
There are a few options for installing a concrete base for your hot tub. You can use concrete bricks or a poured concrete slab. Poured slabs will have greater consistency and levelness, and are overall more highly recommended for hot tub foundations.
Benefits of a concrete foundation include a quick-drying surface and environmental friendliness, as concrete does not contain harmful chemicals or solvents.
4. Paver Stones
Paver stones can be made from a variety of materials including concrete, brick, and natural stone. They come in a wide variety of colors, textures, and styles. This allows you to select the best option that will match your outdoor space perfectly.
A major benefit of pavers is that they are easy and quick to install. If you are looking for a fast solution that also offers you customizable options, paver stones may be the foundation choice for you. Plus, they are environmentally friendly and designed to hold up under extreme weather conditions.
When you choose paver stones for your hot tub foundation, you enjoy the benefit of a beautiful design that is both durable and affordable.
5. Crushed Gravel
Crushed gravel makes an excellent foundation for hot tubs, as it offers both sturdiness and advanced drainage. Unlike other foundation options, crushed gravel is more permeable while still providing the necessary support and weight-bearing a hot tub needs.
Installing a crushed gravel foundation will require you to create a dedicated space in your yard, typically square in shape and bordered by wood or stone. This space should be dug out slightly and levelled, and then filled with the crushed gravel of your choice.
Gravel is actually considered by many to be one of the best hot tub foundation options. Its benefits include easy maintenance and a highly affordable installation cost.
Additionally Considerations When Planning a Hot Tub Installation
Each of the foundation options we have discussed come with their own set of advantages. Choosing which option is best for your outdoor space comes down to what your personal goals and aesthetic objectives are.
There are several key considerations when planning the foundation installation, including:
Backyard Layout
The very first factor you need to think over is the layout of your backyard. The size, shape, and slope of your yard can all impact where a hot tub can be placed.
If you already have an existing deck or patio, it may be more beneficial to repurpose these for holding a hot tub rather than carving out a brand new space. Likewise, if you have a large backyard but no patio, simply digging out a space for a concrete slab, paver stones, or crushed gravel to sit may be ideal.
No matter where you choose to place your hot tub, you must make sure the space is level and sturdy.
Electrical Connections
Another major consideration when installing a hot tub is where your electrical connections are in your yard. If you do not have any proper electrical connections, or if the ones you have do not work for this purpose, you will need to contact an electrician about your options.
According to The Home Depot:
"For most full-sized spas or hot tubs, the National Electrical Code (NEC) requires:
Hard-wiring the spa into a ground fault circuit interrupter (GFCI)-protected 220 to 240V, 50- or 60-amp dedicated circuit.
Installing a manual disconnect device, often called a spa panel, between your home's electrical breaker panel and the spa."
Seasonal Weather
While hot tubs are designed with outdoor durability in mind, it is still important to consider your local weather conditions. If you have heavy rains, snowstorms, or other severe weather, you may want to construct a roof or cover of some kind for your hot tub.
You will also need to make sure the cover to your hot tub is high quality and well insulated. If your cover becomes damaged in any way, contact your hot tub provider immediately for replacement recommendations.
There are many different ways to heat your outdoor space, so make sure you plan accordingly for cold weather!
Buy Your Ideal Hot Tub from Vintage Hot Tubs
Finding the hot tub of your dreams is easy with Vintage Hot Tubs! We offer a variety of different models and sizes, from small spas perfect for two to larger options that can accommodate six or more people. The main brands that we specialize in are Jacuzzi® Hot Tubs, Sundance® Spas and Nordic Hot Tubs™.
On top of carrying high-quality hot tub brands, Vintage Hot Tubs also offers customers all the services and supplies needed to get the most out of your spa. Requesting a service or repair is easy – simply fill out our online form describing your problem and we will send our expert time to find a solution in no time.
If you enjoyed this article and found it helpful, be sure to check out the rest of our blog! We have articles on a wide range of topics, from outdoor design trends to the benefits of hot tub covers, and more!
No matter what your backyard goals are, our experts at Vintage Hot Tubs are here to help. When you visit our website, make sure to use our hot tub building and pricing tool to create your dream spa.