4 Best Outdoor Spa Design Trends & Ideas For 2023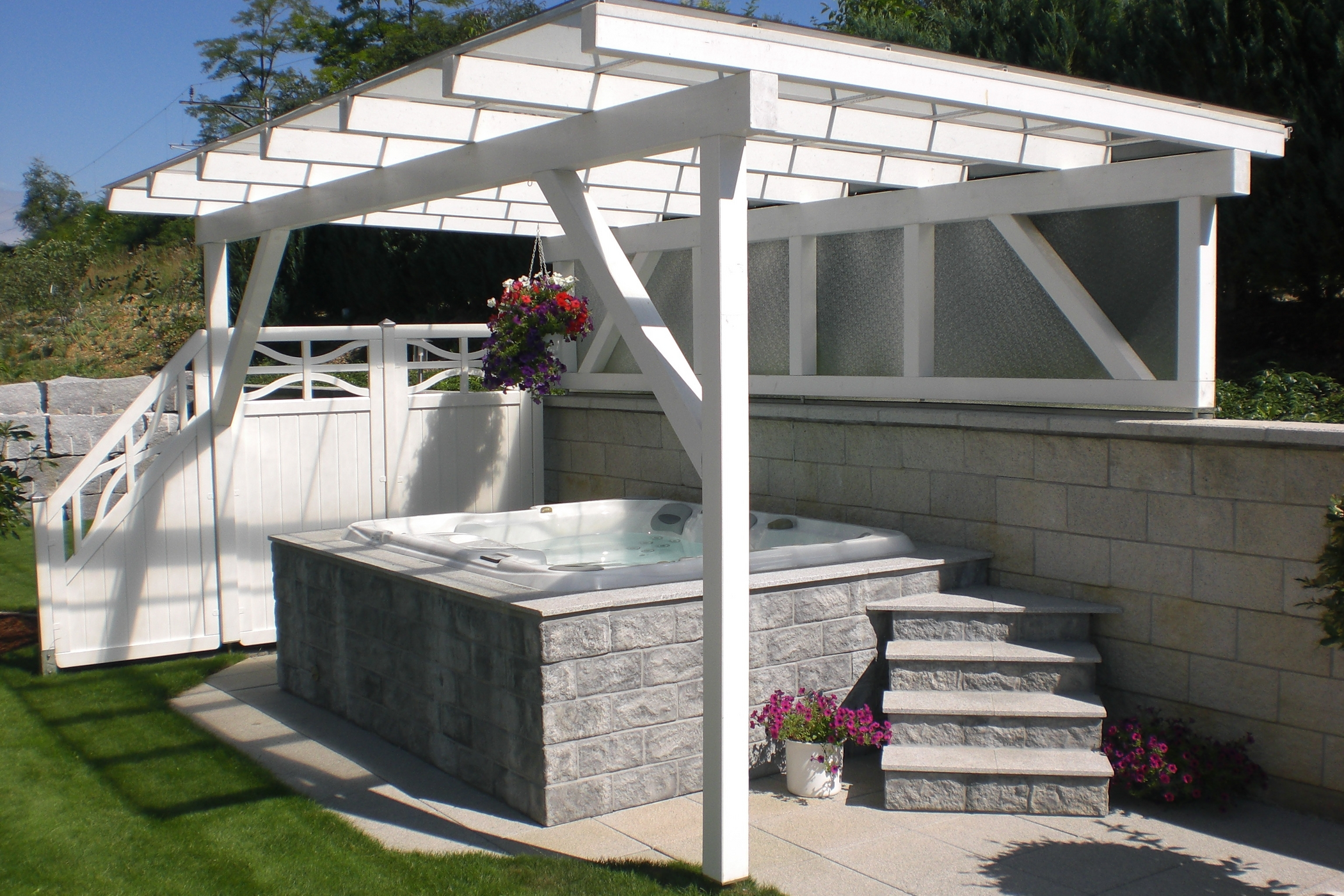 Making the most of your backyard living space doesn't have to be some tedious, boring chore. By staying on top of the new trends in hot tub designs, you can enjoy a leisurely soak in your very own backyard oasis.
We totally understand how important this is, which is why we've broken down the newest hot tub design trends for your enjoyment!
Swim Spas: Relaxing and Staying Classy
We are pleased to offer premium swim spas from leading brands such as Jacuzzi® Swim Spas and Swim Life. Their wide variety of swim spas include options for both the casual owner looking to spruce up their outdoor space or the serious athlete needing a pool to add to their workout routine.
The swim spa's jet-powered current creates the perfect atmosphere for a rejuvenating full-body workout and/or hydrotherapy session.
High-quality technology and engineering let you swim countless laps without turning around. The jets are also adjustable, allowing you to enjoy a workout at multiple intensities or a massage when it's time to relax.
Swim spas include the double benefits of a hot tub and a swimming pool, making them super convenient additions to any household.
Swim spas also come with an array of mental and physical health benefits. Many of the swim spas available are also an ideal environment to teach children how to swim.
Our swim spas include a proportional streamlined swim tank and anti-slip floor so there's no limit to the kind of exercises to be done in the swim spa. The engineered current feels natural to allow all your focus to center on getting in touch with your body.
Whether you're perfecting a stroke or releasing tension in your muscles built by stress, adjust the settings to create the ideal aquatic environment.
Swim spas offer the same health benefits as hot tubs such as reduced stress, improved sleep, post-injury recovery, soothed arthritic joints, and more. Even better, swim spas can be used 365 days a year in all types of weather!
There is never a wrong time to begin considering bringing home your perfect swim spa.
Hot Tubs: Dedicated to Healing and Restoration
The right hot tub can make the perfect addition to any backyard living space. At Vintage Hot Tubs in Victoria and Langford, we carry a range of industry-leading hot tub brands, including Jacuzzi® Hot Tubs, Sundance® Spas, and Nordic Hot Tubs™.
Each hot tub is equipped with a range of innovative features that, when used alone or in combination with one another, can create a luxurious spa experience.
From hydrotherapy jets and LED illumination, to comfortable seats and an ergonomic design throughout, you'll wonder how you ever went without the healing power of hot tub hydrotherapy.
The soothing combination of heat, buoyancy and massage helps to promote health and wellness through a variety of improvements to your emotional, mental and physical health. Not to mention the wonders that a hot tub installation can bring to your backyard…
We have hot tubs in a multitude of colours, shapes, sizes. Finding the perfect hot tub to incorporate seamlessly into your outdoor space should be no trouble.
You can get the most out of your new backyard oasis by not only installing a spa, but also enhancing your installation with other outdoor living essentials. Your hot tub is a perfect place to create memories with family and friends.
Consider outdoor furniture as well as outdoor dining sets such as grills and smokers. Add whatever additional pieces transform outdoor living for you. Even if you're not planning on hosting elaborate get-togethers, consider how plants, boulders, ambiance lighting, and other outdoor decors can transform your swim spa sanctuary into an outdoor paradise.
Remember to consider accessibility and functionality when designing the perfect backyard getaway. Swim spas do require maintenance, so be sure to keep the access panel open.
Likewise, make sure entering the swim spa itself is an effortless activity and consider the many step options engineered for easy access on sale.
Hot Tub & Swim Spa Design Trends for 2023
1. Comfortable and Stylish Lounge Area
With more and more people spending time at home, having a complete outdoor living space is more important now than ever before.
Along with your built-in hot tub installation, having a lounge area, patio seating and illumination for when the sun goes down is one of the hottest, and longer-lasting trends, of 2023.
2. Elusive Fire and Water Features
Create the ultimate atmosphere for relaxation, recreation and entertainment with added fire and water features. From fire pits and fire tables, to added waterfalls, water fountains and more, these features can bring the elements to your outdoor space in ways you never imagined.
3. Natural Outdoor Oasis
Create the built-in look with a stone or wooden surround around your hot tub. For added style and safety, add lighting to stairs, corners and edges where possible. The ultimate outdoor oasis isn't complete without an abundance of nature.
Add plants, flowers and other natural elements every chance you get. From planters and flower gardens, to bird baths, waterfalls and more.
4. Outdoor Shower Area
An outdoor shower area can provide your guests with the convenient opportunity to rinse off before they soak. This will help to reduce the number of contaminants that enter the water, such as soap, dirt or oil. They can also rinse off after their soak, too!
Staying on Top of the Trends in Victoria and Langford, BC
Your hot tub or swim spa should not be an eyesore or random piece in your outdoor space. There are countless ways to incorporate color and decor, so your spa flows along perfectly with whatever design and style you already have established.
Our friendly sales team here at Vintage Hot Tubs in Victoria and Langford would love to help you make the most of your backyard living space. For more information about our high-quality swim spas and hot tubs for sale, or to ask about our affordable pricing and financing, please don't hesitate to come visit your local showroom today!