Introducing Smartop® Spa Covers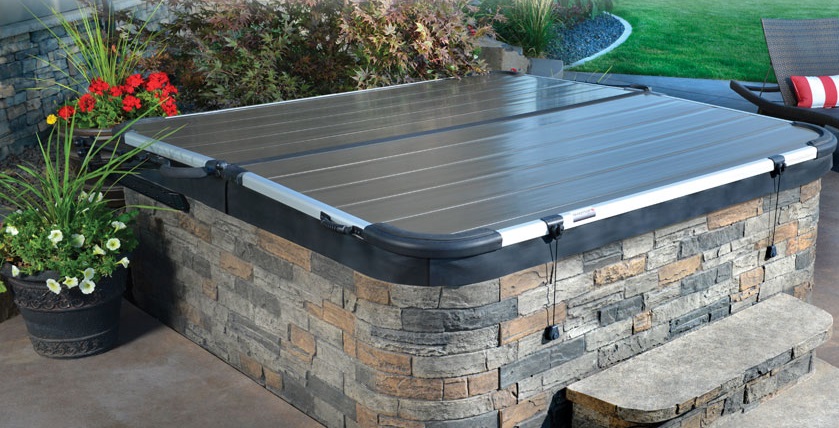 Your Smartop® Spa Cover works hard to protect your hot tub. Without a properly functioning spa cover, you may wind up spending more money and wasting valuable resources in keeping your spa insulated and protected. Your spa cover not only keeps your hot tub free from debris and out of the reach of animals, it can also help regulate the temperature of your hot tub. This translates to lower energy costs and a clear conscience for you!
Taking the Heavy Lifting out of Covering Your Spa
When you're looking for a top of the line hot tub and swim spa covers, a Smartop® Spa Cover is a dependable and reliable investment in your hot tub. Choosing a Smartop® can help keep your spa running smoothly for years to come, allowing you the peace of mind that comes with knowing you've made the best decision for your hot tub.
Why Choose Smartop® Spa Covers
When it comes to protecting your hot tub, why settle for less? A Smartop® Spa Cover uses state of the art technology to help keep your hot tub clean, insulated, and protected – all without added stress or strain for you! A Smartop® boasts the following features:
Anodized Aluminum Trim: This material doesn't corrode or wear down, giving you lasting performance and aesthetics.
Durable Polymer Materials: Helps insulate your spa while also keeping your Smartop® sturdy.
DecoShield Layer: Keeps your hot tub secure from extreme temperatures throughout the year.
Steel Locks: Prevents unwelcome guests from entering your hot tub.
Unique EAS Lift & Assist: Protects you from strain and effort when accessing your spa.
The Brand You Trust
Smartop® Spa Covers have earned their reputation as being reliable and dependable spa covers, and for good reason. Each Smartop® comes with a guarantee that you'll be happy with its performance, giving you the assurance that your hot tub is safe and your cover is working correctly.
When you invest in a Smartop® Spa cover, you can relax in your hot tub while knowing that you've made the right move in taking good care of your spa. Each Smartop® Spa Cover comes with non-absorbent foam, meaning that your cover won't get sodden or weighed down over time. It's a maintenance-free way to keep your spa protected from the elements, and you can be assured that it was built to last. Getting a Smartop® cover not only helps safeguard your spa, it's also an environmentally friendly and eco-conscious way to protect your hot tub.
Swim Spas Covers in Victoria and Langford
For more information about how to protect your hot tub from the damaging effects of the weather and to keep it running at peak performance, please reach out to Vintage Hot Tubs in Victoria and Langford. To see our wide selection of swim spas for sale, or to ask us about our hot tub covers, please contact us or drop by our showroom today. Our friendly sales team is excited to meet you and answer any questions you may have for us about hot tub covers or spa maintenance and accessories!