Hot Tub Exercise Tips for the Everyday Athlete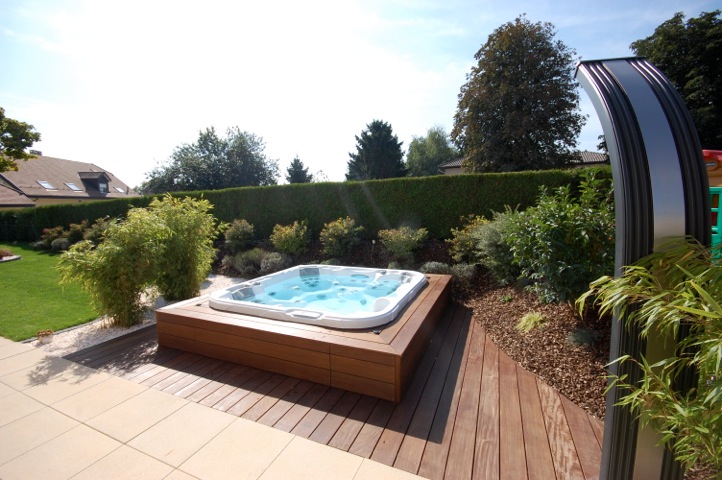 Your hot tub is a great place to relax and let the stresses of the day ease away. The jets create a soothing atmosphere, with a wonderful combination of bubbling warm water and weight-lifting buoyancy. This comfortable environment can create the perfect place for exercise, especially for those who suffer from arthritis, aches and pains, or who are recovering from an injury. Many modern hot tub brands, including Jacuzzi® Hot Tubs, Dimension One Spas, Sundance® Spas, and Nordic Hot Tubs™, are also perfect for low-impact exercise to burn calories and strengthen muscles – all from the comfort of your hot tub.
Benefits of Water-based Exercise
Exercising in warm water reduces the chance of injury as the natural buoyancy relieves pressure and unnecessary weight on sore muscles and joints. This low-impact activity is ideal for anyone who has issues with mobility, balance, flexibility, or who suffers from arthritis or chronic pain.
Other benefits can include:
Improved flexibility
Enhanced mobility
Better flexibility
Less aches and pains
Toned muscles
Weight loss or maintenance
Reduced stress
Better sleep
What are your motivations for water-based exercise in the hot tub? To learn more about the health benefits of hot tubs and hydrotherapy, click here!
Exercises to Try
Toe pushes to strengthen calf muscles – sit back and hold your toes against the wall or floor. Then push your toes with a comfortable amount of force and hold for three seconds, repeating three times. As your muscles get stronger, build up to holding for 10 or more seconds.
Arm crossovers to strengthen forearms and core – sit up straight with your abdominals tightened. Hold both arms out straight in front of you with palms facing down, quickly cross one arm over the other, alternating which one goes on top. Do three sets for about 30 seconds each.
Side leg extensions to strengthen legs and abdominals – sit back and relax, holding on to the ledge for support, and stretch your legs, keeping them as straight as possible. Slowly spread them apart and bring them back together. Keep your abdominals flexed and do three sets for 30 seconds each.
Leg lifts to strengthen abdominals – sit back and hold your abdominals tight, holding on to the ledge for support. Stretch your legs out in front, keeping them straight, then lift your legs up in a steady motion until your toes are coming out of the water. Hold the position and bring your legs back down. Do three sets of 10 leg lifts each.
Bicycle kicks to strengthen abdominals and legs – sit on the edge of your seat, holding onto the ledge. Lift both legs out of the water and start to cycle. Do three sets of 30 seconds each.
Safety First
Hot tub covers are a great way to maintain water temperature. Keep your cover on until you're ready to start exercising and simply remove it, step in and let your body acclimatize to the warm water.
For a cover that will last you for many years to come with added durability and quality, we suggest investing in a Covana Hot Tub Cover. These covers are perfect for anyone who wants to exercise as the automated gazebo offers shade from the sun and privacy.
Before starting a new fitness program, always speak to your physician, and remember to take plenty of time to rest between exercises and drink fluids between sets. When you're finished your exercise routine, turn the water jets on, sit back and relax. You've earned it!
From Dimension One Spas to Covana hot tub covers, you'll find everything you need, along with expert help and advice, at Vintage Hot Tubs. Visit one of our two showrooms to view our extensive product range or get assistance from our experienced staff.