Everything You Need to Know About Covana Hot Tub Covers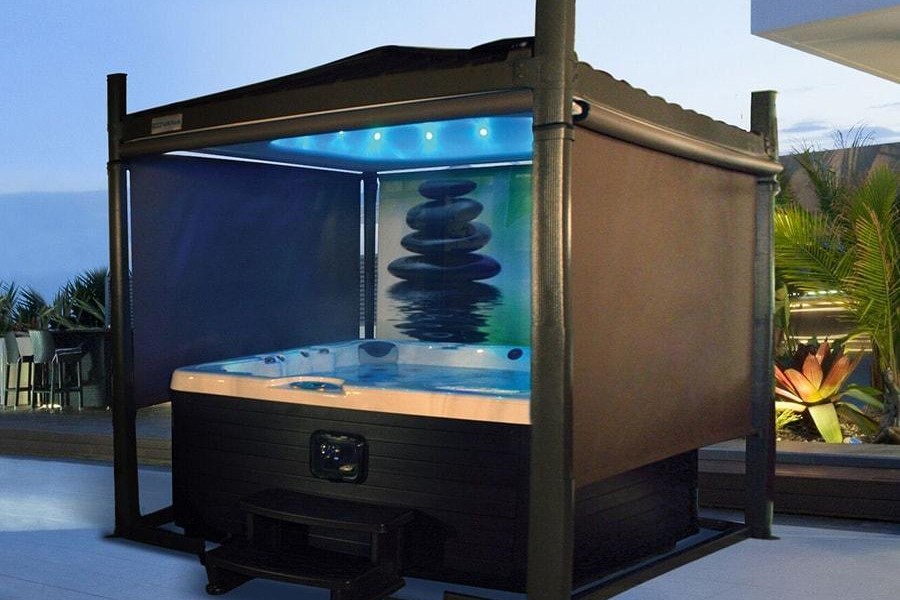 Whatever the style or atmosphere of your hot tub retreat, a Covana hot tub cover is your key to happiness! What if accessing your hot tub meant simply turning a key, without ever struggling with opening a cover or removing ice, snow and other debris? With a Covana hot tub cover, you can equip your hot tub with the highest insulation cover on the market and still be able to easily access it in a mere 20 seconds of minimal effort.
Covana systems are much more than just hot tub covers. They function as automated gazebos that offer users maximum safety, comfort and intimacy. Made in Canada, using state-of-the-art materials, Covana products are designed to endure the most unforgiving climates while saving you money on heating bills, unnecessary water, and maintenance products.
Here are the reasons that Covana hot tub covers are a cut above the rest.
About the Covana Brand
Covana makes life easier. Elegant, modern and quiet, the Covana is the perfect complement to any hot tub installation. Some traditional hot tub covers and gazebos might eventually fail under the weight of inches of snow, but the Covana, manufactured in Quebec, is made to handle rigorous British Columbia winters by supporting up to 660 lb (272 kg) of snow!
Fully Automated
Fully automated, a Covana hot tub cover offers less work and more comfort. The Covana is the world's only automated gazebo and can be raised and lowered using a key switch.
2-In-1 SOLUTION
The Covana offers the advantages of both a spa cover and a gazebo in one innovative product. It keeps your hot tub water cleaned and heated, as well as protecting you from the sun and providing privacy.
Safety
Because the Covana closes and locks down your hot tub securely, it keeps intruders and young children out. You'll have peace of mind knowing that your children are safe from harm.
Optional Privacy
The Covana comes with retractable screens, offering peace and privacy when you need it, and exposure to the great outdoors on a sunny day.
Energy Efficient
The insulation value of the Covana is twice that of a standard cover. Furthermore, its optimal water retention means it saves water, energy and costs for maintenance products.
Durability
The lifespan of a traditional hot tub cover is around three years. Due to its aluminum construction and rigid roof crafted from seamless ABS thermoplastic, the Covana will equal or surpass the lifespan of your spa.
Innovative Design
When open, the Covana provides a sense of privacy and comfort, and protection from the sun's rays. When closed, it provides an unobstructed view so you can enjoy a beautiful sunset from your deck or patio.
Simplicity
Compatible with all brands of spas, the Covana can be installed on many surfaces and simply requires a 110-volt/15-amp circuit. The Covana doesn't discriminate.
Covana Covers at Vintage Hot Tubs
Vintage Hot Tubs is a proud dealer of Covana hot tub covers and other hot tub accessories. Contact us today if you're ready to indulge in the ease and comfort of a new Covana product. Visit our blog to learn about The Amazing and Life-Changing Benefits of Hydrotherapy, and much more!