5 Ideas to Help You Create the Best Man Cave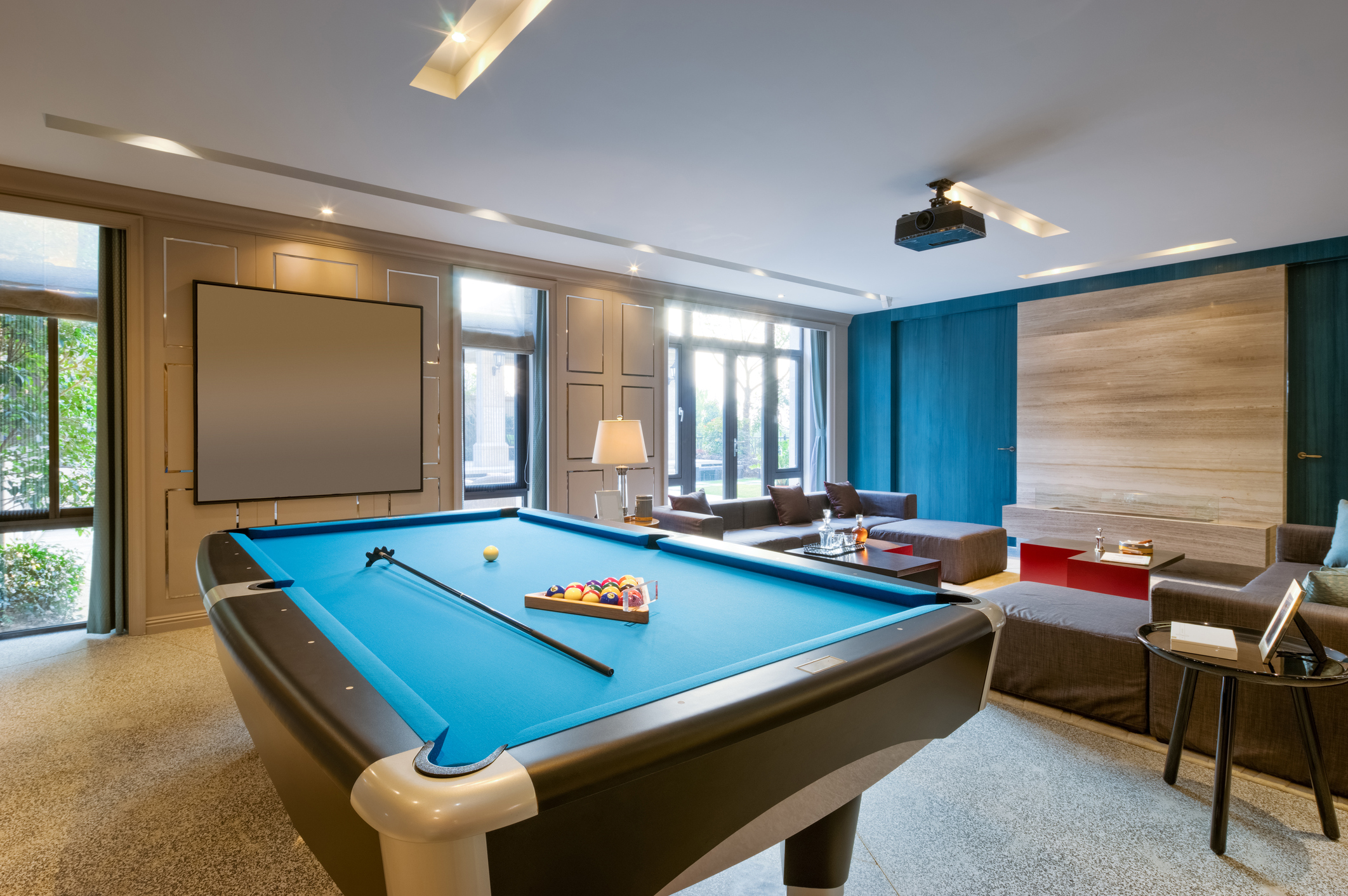 Looking to make your house a home with the addition of a modern man cave?
You aren't the only one. Popularly known as a man cave, this room can also be referred to as the games room, rec room or TV room. That means it doesn't just have to cater to the men of the house, but everybody who wants to kick back, relax, and have a little fun! Our experts here at Vintage Hot Tubs in Victoria and Langford have helped customers add to an existing games room and create a man cave from scratch, which is why we've put our heads together and created a list of the top five ideas to help you create the best man cave!
1. The Basics: Painting, Furniture & More
The foundation of your man cave can set the mood for countless game nights, Friday nights with the kids, and Sunday afternoons spent watching football.
Start with the paint. If this room is specifically for the man of the house to have a place to blow off steam, hang posters and place college trophies, it might be a good idea to let him choose the colour. You can never go wrong with a white base and navy blue or red as an accent colour. On the other hand, if this room is more geared toward relaxation and family fun, keeping it a neutral gray, beige, or taupe might be your best bet.
Next, the flooring should also be taken into consideration. Laminate flooring can be easier to clean than carpet, but won't offer a cozy seat when the couch is full. Why not consider laminate or hardwood as a base, with a large, cozy carpet in the couch and coffee table area? That's what we like to call the best of both worlds.
Lastly, let's think about the furniture. You'll want to make way for a comfortable couch, large coffee table and side tables for snacks and drinks, a TV stand, shelving, and even a lamp or two.
2. Billiard Table & Accessories
Now that we have the basics taken care of, let's get to the fun stuff!
No game room is complete without a billiard table. A billiard table can easily become the focal point of a room, especially when they are as timeless as the ones from Canada Billiard and RAM Game Room. A billiard table can be used for pool, cards, and even table tennis.
Some accessories you might want to include:
Pool cue rack and wall mount
Pool cues
Full set of balls
Ball rack
Table brush
Table cover
You may also benefit from a billiards rulebook.
3. Dart Board
Darts offer a casual game to play while spending time with your friends. You can easily hang a dart board on one side of the room, leaving optimal space to throw the darts from. We recommend removing any breakable or delicate items from this general area, just in case!
To ensure safety, children should not be in the room during a darts game.
4. TV, Video Games & Sound System
Up next, your classic flat screen TV, gaming system and surround sound! The key to every man cave is to have the ultimate TV set-up. To make the most of this area, save up and opt for a 50" television or bigger, as this size is ideal for playing video games, watching movies as a family, or watching sports.
A television stand or floating shelves are ideal to hold the cable box, gaming system, remote, speakers, and pieces of décor or photos. Not to mention DVDs, video game boxes, books, and any other accessories you might need to store.
Place your television station in clear view of the couch and coffee table, and you are in business!
5. Mini Fridge or Bar Area
Last but most certainly not least, every man cave needs drinks and snacks! Creating a bar area might sound expensive and seem like a lot of work, but, it can be quite simple. Something as simple as a mini fridge and microwave stand can make a great snack and drink station.
If you're looking to create something more elaborate and permanent, installing a bar, shelving and seating can also be completed, with the right expertise of course!
Start Your Man Cave Today!
Vintage Hot Tubs has a vast selection of features and accessories that can complete just about any man cave. Contact us or visit your closest location to learn more about our game room products, high-quality billiard tables, and accessories for sale in Victoria and Langford.