5 Incredible Hot Tubs to Check Out in 2020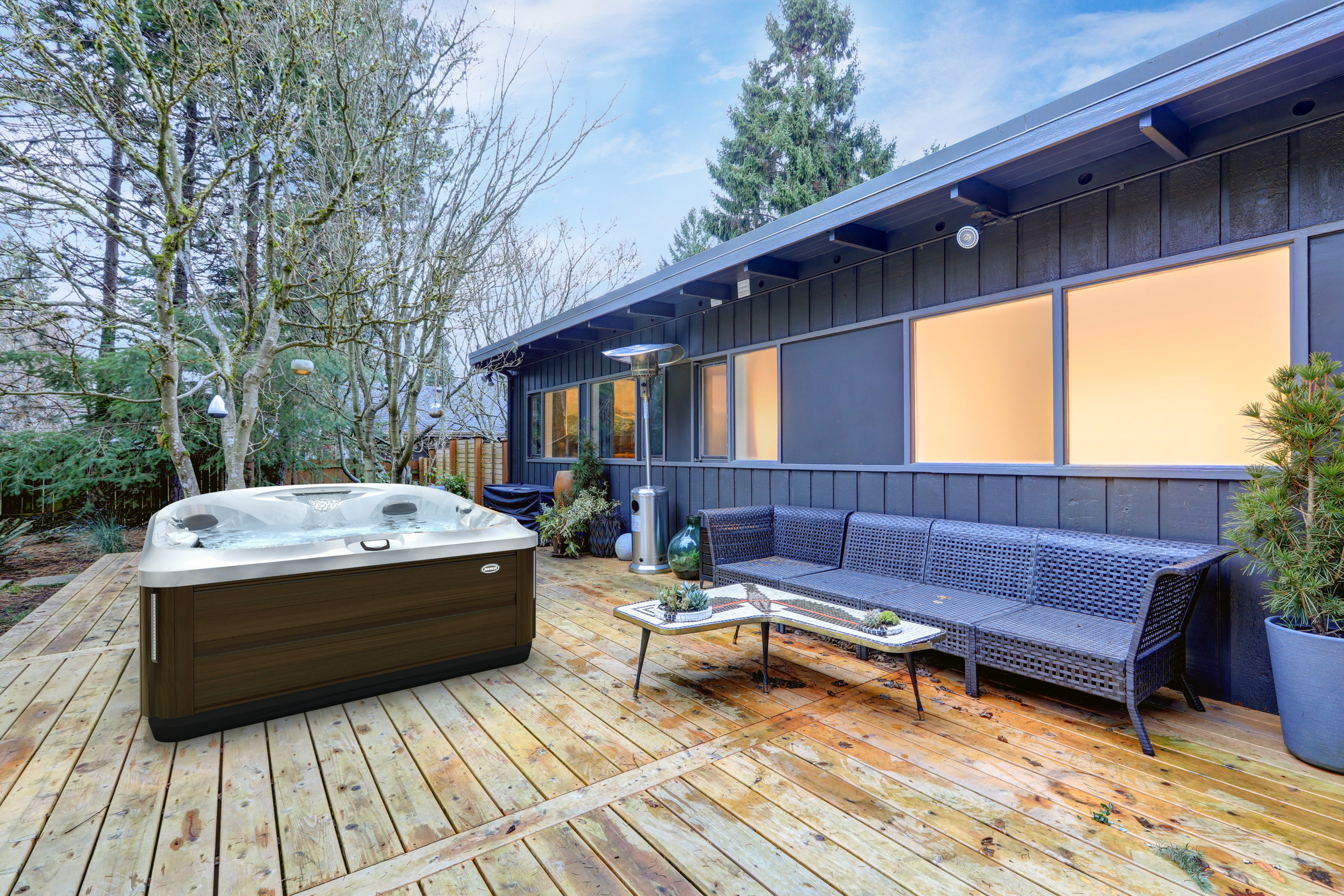 If one of your New Year's resolutions is to find more time to unwind, why not consider all the benefits a spa can offer. From providing a convenient way to kick back and relax to improving your health, you just can't go wrong by investing in a quality spa. So, if you're ready to live the hot tub lifestyle in 2020, these are the top models to consider.
Claremont®
With its stylish exterior cabinetry, a low-profile top rail, lounge deck and corner illumination, this 5-6-person spa is elegance personified. And, with 59 jets, you receive a relaxing massage every time. Your experience will be enhanced by the LED lighting and illuminated SunCooler™ cold storage areas, which offer additional seating. Other key features are:
Patented Fluidix® jets
MicroClean® Ultra Water Management System
Glass i-Touch Control with SunSmart® 2.0 Wi-Fi Kit
Dimensions: 92" x 100" x 34"
To learn more about this hot tub, click here!
J-LXL®
If you enjoy a contemporary look, this 38-jet spa is for you. Energy-efficient and sleek, this 5-6-seat spa offers a full-body massage courtesy of four powerful RX jets and a therapy lounge seat. The J-LXL® is part of the J-LX® Collection, which features the hottest designs and most energy-efficient hot tubs in their class. The knot-releasing seat, meanwhile, offers spiral streams of air and water to relieve tight, achy muscles. Along with an illuminated waterfall, this spa includes:
LED perimeter lighting, underwater light
Cabinetry in Brazilian teak or roasted chestnut
Shell is available in a variety of colours
Dimensions: 84" x 84" x 36"
To learn more about this hot tub, click here!
Ramona®
If your muscles are in need of a good massage, look no further than the 45-jet Ramona® hot tub. This spa offers relief from neck to toe courtesy of assorted jet combinations and is part of the 680 Series by Sundance Spas®. The lounge seat provides a full-body massage while the Relaxation Seat targets your neck and back. Jets strategically placed in the asymmetric dome offer the perfect foot massage. Other features of this 5-6-seat spa you'll appreciate include:
Standard lighting and waterfall
ClearRay® UV-C Technology and Filtration
Simplified LED control panel
Dimensions: 89" x 89" x 36"
To learn more about this hot tub, click here!
J-475™
If you're looking for a full-body experience, the J-475™ Jacuzzi® Hot Tub can give it to you. The J-475™ Jacuzzi® Hot Tub is part of the stunning J-400 Collection from Jacuzzi® Hot Tubs. With its 5-6-seat configuration and 55 jets, this is the perfect spa for relaxing with the family or for a hot tub party. The spa offers a variety of PowerPro® Jets with adjustable intensity allowing for a hydromassage customized to your needs. With a high-back design and an adjustable pillow, you can lay back and relax while enjoying massage from the neck down. Other key features include:
Extra-wide illuminated waterfall
Six spinning jets offering a Swedish massage
ProFinish™ cabinetry in choice of modern hardwood, brushed gray or smoked ebony
Dimensions: 91" x 91" x 37.5"
To learn more about this hot tub, click here!
J-225™
With a seating capacity of 4-5 people, this spa is perfect for patios and small spaces alike. Easy on the wallet, this spa provides therapeutic massage courtesy of its rotational jets and ergonomic seats. Other features include:
LED lighting
23 jets
Cabinetry options of Brazilian teak, Roasted chestnut and Silverwood
Dimensions: 76" x 84" x 34.5"
To learn more about this hot tub, click here!
Vintage Hot Tubs
If you're ready to experience all of the benefits of hydrotherapy, come visit us at Vintage Hot Tubs. As the premier provider of hot tubs in British Columbia, we can help you find the spa to fit your budget. Visit one of our showrooms or send us a message with any questions you may have. One of our experts will be happy to help.